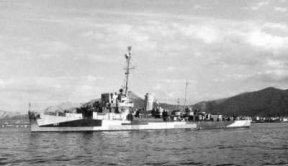 Coast Guard links on this page are all broken.

DE387 WWII NOTES

Captains of Vance DE387

CDR E.A.Anderson USCG: 11/1/43 - 5/30/44 Commissioned
CDR F.W.Helmer USCG: 5/31/44 - 6/15/45
CDR J.J.McClealand USCG: 6/16/45 - 2/27/46 Decommissioned

Flagship: CORTDIV45 Vance DE387
ADM E.J.Roland USCG: 11/43 - ?
CDR M.A.Laughlin USCG: ?/?
ADM C.C.Knapp USCG: ?/?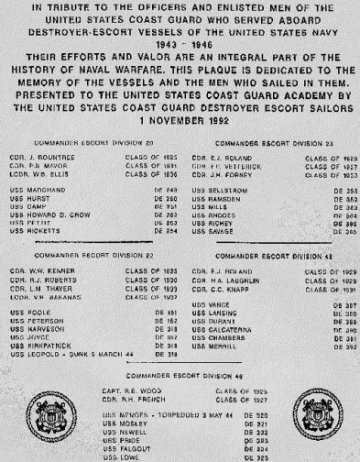 Navy:

Meanwhile, the Navy had begun a major program of destroyer-escort building, which ultimately produced some 500 ships. Thirty of these DEs, all of the 306-foot-long, Fairbanks Morse-diesel type with reduction gears, were commissioned by Coast Guard crews during the autumn of 1943.

Coast Guard-Manned Naval Vessels in World War II

Coast Guard:

The Coast Guard ultimately manned 30 destroyer escorts. These were formed into five escort divisions consisting of six destroyer escorts each. Each destroyer escort was fully manned by Coast Guard crews, and the five divisions were under the command of a senior Coast Guard officer. After their crews were trained and their new warships put through their shakedown exercises, they began escorting convoys to Great Britain and the Mediterranean.

The Coast Guard and the North Atlantic Campaign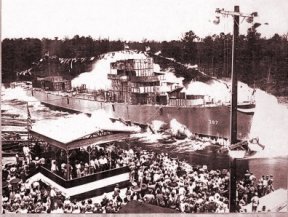 DE387
USS Vance DE387

USS Vance DE387 was laid down on 30 April 1943 at Houston, Tex., by the Brown Shipbuilding Co.; launched on 16 July 1943; sponsored by Mrs. Joseph W. Vance, mother of the late Lt.(jg.) Vance; and commissioned on 1 November 1943, LCDR E.A. Anderson, USCG, in command.

Following shakedown off Bermuda, Vance became the flagship for Escort Division-CORTDIV45-a Coast Guard-manned unit-and convoyed a group of oil tankers from Norfolk, Va., to Port Arthur, Tex., and back. Upon her return to Norfolk, she served as a training ship for destroyer escort crews while awaiting the arrival of the rest of her division.

In February 1944, the ship conducted local escort operations before joining the New York section of Convoy UGS33, bound for Gibraltar. Her section rendezvoused off Norfolk with the remainder of the convoy and its flagship, Bibb WPG31, and set out across the Atlantic. On 7 March, Vance departed Casablanca with GUS33 for the return voyage and put into the New York Navy Yard on the 23d for availability.

Vance next got underway on 12 April, with the other ships of CORTDIV45 and a Navy-manned destroyer escort division, to screen the 102 merchantmen of convoy UGS39 to Tunisia. Arriving at Bizerte on 3 May, the warship left Tunisian waters eight days later, bound for New York with GUS39. Off Oran on the 14th, a German U-boat slipped through the screen of escorts and torpedoed two merchantmen. Vance, holding the "whip" position of the screen (where she had the duty of shepherding stragglers ) came up through the convoy, sighted the periscope, and attempted to ram. The U-boat "pulled the plug" and dove deeper, evading the onrushing escort's sharp bow. Vance remained on the scene for 10 hours, subjecting the U-boat to depth-charge and hedgehog attacks, until relieved by a squadron of Navy destroyers. Three days later, after an extensive hunt, the relief ships sank U-616.

Altogether, Vance made eight round-trip voyages to the western Mediterranean and followed each with availability at either Boston or New York. Four times the ship engaged in training exercises out of Casco Bay-sharpening up her antisubmarine and gunnery skills. On 14 July 1944, Vance helped to fight off a German air attack against an Allied convoy off Oran. During most of the voyages, the destroyer escort held the "whip"' position in the convoy-a grueling and sometimes frustrating detail since merchantmen frequently displayed a lack of discipline and straggled behind the convoy. Carrying the division doctor on board, Vance on occasion would take on board men from other ships for medical treatment.

Coast Guard:
The Coast Guard's final military action in the North Atlantic occurred later in May when the Coast Guard-manned Durant and Vance accepted the surrender of the U873.

The Coast Guard and the North Atlantic Campaign

Private Data: From the scrapbook of Ted Bolinger

Knapp, C.C. "The Surrender of the First German U-boat to an American Unit, the Coast Guard Destroyer-Escort U.S.S. Vance DE387. Coast Guard Academy Alumni Association "The Bulletin" (Jul 1945), pp. 116-118.

The United States Coast Guard, as one of the nation's armed forces, has seen combat with the enemy in virtually every conflict fought by the United States. World War II saw the Coast Guard come to grips with the empire of Japan as well as the naval might of Nazi Germany. During the war the U.S. Navy credited Coast Guard forces with sinking eleven of Hitler's U-boats, nicknamed by Coast Guardsmen as "hearses," although they probably sank at least twelve. They also captured two enemy surface vessels at sea and can take pride in knowing that they were the only United States' service to do so during World War II.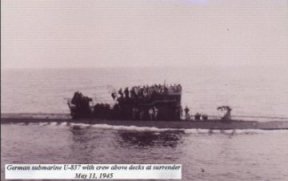 U873
Date of Action: 16 May 1945
USCG Unit(s) Involved: USS Durant and Vance
Sinking/Capture/Assist? Surrender
Location of event: Portsmouth, New Hampshire
Credit by US Navy? Yes
Enemy warship's Commanding Officer: Kapitänleutnant Friedrich Steinhoff
Enemy casualties: None
USCG casualties: None
Misc: U873 surrendered to the Coast Guard-manned USS Durant and USS Vance
Details/Updates:
U-873

On 2 May 1945, Vance departed New York with her last Mediterranean-bound convoy. On the morning of 11 May-four days after Germany had surrendered -Vance sighted a light up ahead in the convoy and rang down full speed to investigate. Upon closing the light, the destroyer escort discovered a surfaced U-boat, U873, which had been at sea for 50 days. While the submarine began to run, Vance hailed the erstwhile enemy in German by bullhorn, ordering the submariners to heave to. Vance placed a prize crew on board the captured U-boat who delivered the prize at Portsmouth, NH, on the 16th.

Vance then underwent alterations to her antiaircraft armament and soon got underway for the Pacific. However, she arrived too late to participate in anything but training operations and returned to the east coast for decommissioning. In mid-October 1945, she underwent a pre-deactivation availability before proceeding south toGreen Cove Springs, Fla. On 27 February 1946, Vance was decommissioned and placed in reserve.

Captains of Vance
U873 Crew
U873 Captain
U873 also
Return to Facts Index

1 ~ 2 ~ 3 ~ 3a ~ 4 ~ 5 ~ 6
---
To add to or comment on page



Please contact George.
---

for broken links
---
Comments / Questions



You don't have to be a former crew member to sign






---
Sign Vance's Logbook
Bridge ~ Top of Page ~ Photos ~ Stories ~ Facts
The Hunt::
Following the torpedoing of two merchant vessels in convoy GUS 39, Destroyer Division 19, Ellyson, Rodman,Hambleton, and Emmons got underway to the scene to begin the search. Gleaves, Nields, and Macomb joined shortly thereafter. After several depth charge attacks in the running chase, the submarine completely surprised Macomb, shorty before midnight, 16 May 1944.
Running from the first destroyer group, the German sub commander did not sight Macomb until she turned her searchlight on him, only 2400 yards away. Mistaking the light for an aircraft light, the U-boat opened fire with her 20mm gun and Macomb replied with 6 rounds of 5"38 before the sub crash dived. Making an immediate depth charge attack, Macomb followed up with another, and then directed Gleaves in a creeping attack, during which contact was lost. Nields and Emmons dropped patterns before contact was lost about 0230, 17 May, when a box search was instituted. At daylight, Hambleton had a sound contact and made two attacks, and the submarine surfaced in the center of the destroyers, who immediately opened fire, sending the sub down within minutes. Fifty-three prisoners were rescued. The above account was borrowed from Actions of the USS Macomb
http://www.geocities.com/bensonclass/macu616.html
Learn about the U-boats
Go to Vance's account