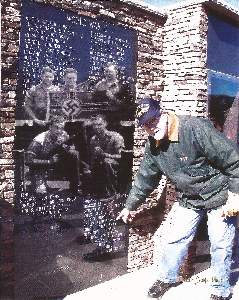 Back row: ?. ?. ?
Front row: Stephen Earles, ?
We need the names of the other shipmates.

From: Denise Weinberg
Sent: Saturday, June 09, 2012 2:17 PM
To: webmaster@ussvance.com
Subject: Vance crew Picture and memorial plaque My uncle Stephen Douglas Earles was part of the crew on the Vance in 1945.
if you look at the attached photo he is the man standing pointing to his name on the memorial.
He is also the man kneeling holding the gun on the left side of the photo on the memorial.
I'd really like to know who the other people are in the picture and if anyone has a copy of that photo they could share with me.
Feel free to add the attached photo to your page if you want.
My uncle Steve is still living and is in Palmer TN running a happy paws dog training and sitting service.
Hope you can help me with this and thanks
Denise Weinberg A note from Steve.
The Veterans Park is located in Dunlap, TN., my name is on the wall in the WWII section, a photographer in Dunlap took a small picture I had and inlayed that picture on the wall in the picture he took of me pointing of my name. The wall itself does not have the image on it. I was not a member of the prize crew: this picture was taken aboard the USS Vance after the German guns had been taken off the U873 and on the Vance. I do not know the names of the other men in the photo but I think they were most if not all members of the "black gang". Just a fast fact: the German Flag that we are holding was taken to the Commandant of the Coast Guard by Commander Knapp as soon as we docked back in the US.